Google Analytics
Ensure long term success for your website by knowing who your visitors are and how they interact with the content.
We use Google Analytics, an enterprise-level website analytics tool that allows you (and us) to get information on almost every possible aspect of website user behavior.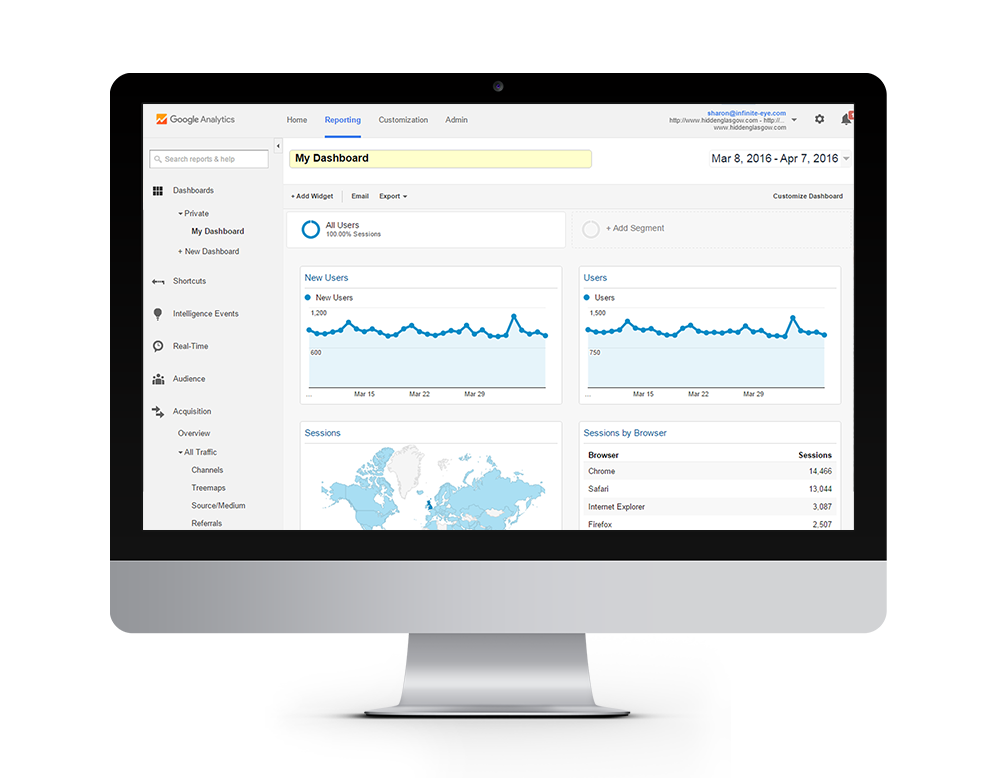 Why Do I Need Analytics?
Every marketing campaign on the internet needs to be tracked, in order to make it successful. After planning and implementation, tracking tools are necessary to calculate the ROI and measure success.
Even if you've not 'paid' to bring visitors to your website, its good to know how they found you, what they looked at, and where they left the site.
Google Analytics, once setup on your website, provides a range of reports that include:
Being able to find out how your visitors locate your website and how often they visit
Being able to identify which pages and links your visitors click the most
Being able to see what channels visitors come from
Being able to see what devices they are using (mobile / desktop / operating system etc)
Being able to track progress over time
Being able to fine tune your website
Reports can be downloaded in a variety of formats. This can be a high level overview of your website, or an in-depth report into specific areas of interest. Reports can be scheduled to be automatically sent to you by email on regular basis.
Google Analytics is added to all our websites during development and is currently free of charge.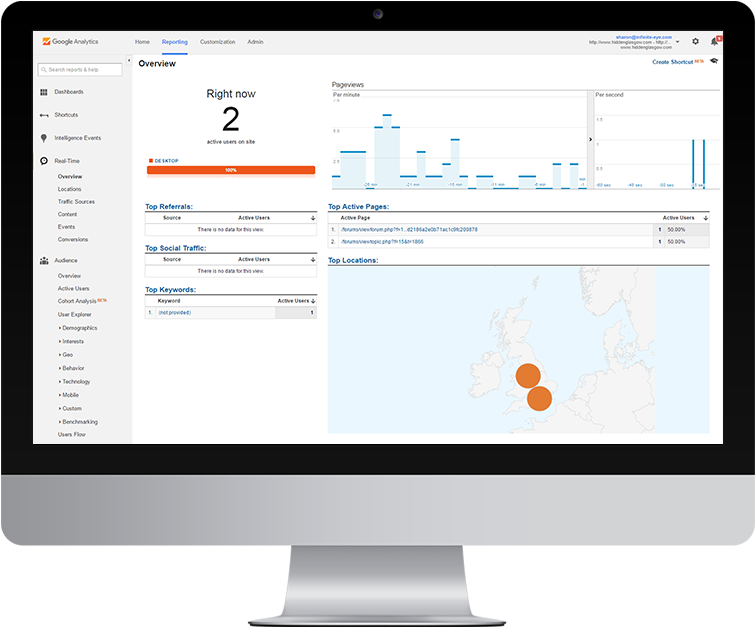 E-commerce and Event Tracking
It's great to measure things like visits and keywords, but it's revenue you really care about!
We can enable your website to work with Google Analytics E-Commerce Tracking, allowing you to browse and report on e-commerce performance from within Google analytics, meaning your visitor information and e-commerce sales information are combined.
Why is e-commerce tracking important? Well, transaction data is a vital piece of information when analysing your online business performance. It's great to measure things like conversion rate, but revenue is much more tangible. Having the e-commerce data in your web analytics application makes it easier to perform analysis.
With e-commerce tracking setup on your website you can:
Analyse your business performance
Report on total sales over different time periods
Compare current performance against historical data
Find your best performing products
Track your sales conversion rate from different advertising sources
See how effective your online advertising has been
Track the effectiveness of changes made to the website
The amount of information available and the different ways you can use it are vast. There is even the ability to compile reports and schedule these to be sent to people by email on a regular basis – excellent for creating management reports.